For clock repair, Call or Text me at 970 217 0605
I will typically be able to see you the day you call or soon afterwards at your convenience! I am available 7 days a week. Call to confirm my availability. Call or text Philip at 970 217 0605. If you text, please add a photo if you can. It helps me assess the clock!
Talk to me about your clock. If possible, text me a picture or two along if you text.
Currently, I am not able to do house calls for 3-weight modern grandfather clocks.
You may drop off your clock for service on any day of the week. He works from his home which is located in Fort Collins south of Harmony and east of Lemay. All clock repair/restoration estimates are free. The turnaround time is generally between 3 to 6 weeks.
A clock that stops running most likely needs oiling.
Clock Repair Fees
From $80 for typical mantle and wall clocks: cleaning/oiling and tune up.
From $100 for Pre-1980 Cuckoo Clocks. I do not work on more modern ones.
Quartz clock movement replacement: $50.
All estimates are "plus parts".
There is no charge if it is quickly determined that the clock is non-repairable.
If a full service has been done and the clock is not working to my satisfaction, a charge of $40 may apply.
Grandfather Clock Repair

Currently, I am not able to do house calls for grandfather clocks.
Call Philip (call or text) 970 217 0605.
---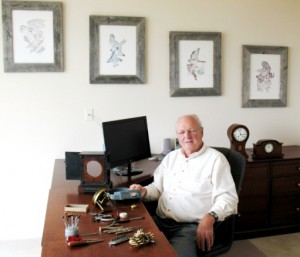 Philip has been perfecting his expertise in clock repair and restoration for over 33 years. He has been a resident of Fort Collins since 2000.
Philip began his journey into the field of clock repair in 1984 when he inherited his family's English Grandfather Clock. As the clock did not work, Philip chose to learn how to repair it himself.
His area of expertise continues to be repair of pendulum clocks.
Timely Antiques Cost and Contact Information
You can CONTACT Philip by phone or text 980 217 0605 or by email at PCPC49 at Gmail dot com.
Does Timely Antiques make house calls?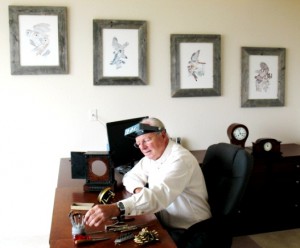 Not at this time.
Many antique clock owners are not familiar with the fact that clocks need to be oiled at regular intervals. You should have your clock oiled every six to eight years in order to keep it running in top condition. Lack of regular oiling is the number one reason a clock stops working.
Does Timely Antiques repair watches?
No. However, Philip does recommend:
In Fort Collins, CO: Precision Time Watch Repair. Ask for: Rodney Phillips or Kipp Lesh for your watch repair needs by calling: 970.484.6399
In Wellington, CO: Proper Time. Ask for Peter Pronko for your watch repair needs by calling: 970-568-3215.
To Summarize:
Philip is a clock expert with over 35 years of experience.

All estimates are free.

Turnaround is typically two to four weeks.

He stands behind all his work.

Repairs/Servicing start as low as $80.

There is no charge if the clock cannot be repaired.
Philip also buys clocks.
Contact: Philip Coggon: 970-217-0605 or email: pcpc49 at gmail dot com.